Hey Innsiders! How is it going?
Just like every city, Madrid has its essentials! It's obvious that if you come to the capital you should go to Cibeles, Debod, Retiro, and all of that places everybody knows and everyone must see!
But if you have already seen all of the typical places to see, now it's time for you to get to know the best plans you can not leave Spain without doing.
La estación fantasma de Chamberí (Chamberí lost station)
This Metro station was converted into a museum in 2008 after the underground renovation made in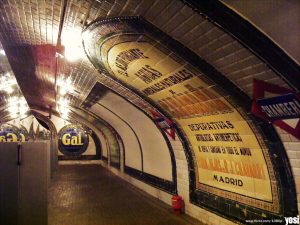 1966 to extend the platforms from 60 to 90 meters. It was part of Line 1, the first Metro line of the capital. Nowadays the subway keeps going through this station when it cross from Bilbao to Iglesia but it doesn't stop. It is still perfectly preserved with the old sings, lathes and advertisements.
It looks beautiful!
Opened from 10am to 1pm on Thursday. From 11am to 7pm on Friday. And from 11am to 3pm on Saturday and Sunday.
You don't have to pay!
You have to go to Plaza de Chamberí.
Aventura Amazonia (Amazonia Adventure)
Flee from pollution and get to know this amazing adventure park located on the outskirts of the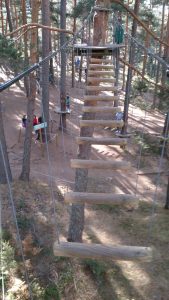 capital, in the heart of Madrid mountains. It is the largest zip lines park in our whole country.
You have tons of adventure circuits, some games in the trees, 33 zip lines and even a 12-meter jump into emptiness. It has different levels for kids and adults. It's so fun for everyone and so useful for people who need to de-stress!!
Go to see a football game!
The Rayo Vallecano team or the Leganés team are the best options for this plan if you've already seen a Real Madrid or Atlético de Madrid soccer game. The ticket will cost you less and you will be able to see the game from closer and with more atmosphere.
If you take advantage of the morning games, you can go get a good appetizer first and then enjoy the game to the fullest!
Travel around Europe without leaving Madrid
One of the best plans that you can do in Madrid is to go to Parque de Europa (Europe Park) in Torrejón de Ardoz. It's a perfect plan to have an amazing morning, or afternoon, seeing a miniature of the main tourist places in Europe and the best part is that it's completely free!
There you can see the Copenhagen little mermaid, the Fontana di Trevi, the Brandenburg Gate, the Greek Acropolis and even a very large recreation of the Eiffel Tower!
Doing it cost more than 12 million euros, including the 14 cardboard monuments, the trees, flowers, lakes, etc.
The truth is that it is amazing!
Cableway and a walk through Casa de Campo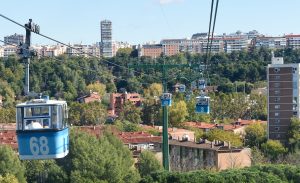 It's so amazing to see a city like Madrid from the sky!! You can take the cableway in Pintor Rosales (close to Plaza de España) and then you will cross in the heights the Manzanares river and Príncipe Pío Station before arriving to Casa de Campo, known here as "The lung of Madrid".
Casa de Campo is one of the largest urban parks in Europe. Walk along on Sunday will make you get a rid of the capital traffic.
And if you are looking for strong emotions you can go to the Parque de Atracciones de Madrid (the theme park of Madrid) located right on Casa de Campo! My advice is going form Monday to Friday, on weekends is so full of people!
Hope you enjoy this post! Feel free to give us your feedback!
Our best wishes!
MCI.