Hey innsiders How is the week going?
As you already know Madrid is a city of parks, of restaurants, a city of cool places where you can chill or hang around. But we know you so well innsider! We knew you were going to click on this post because Madrid is also a city of shopping. Many of you that stays here since several months may already know where to shop, but I'm pretty sure that I may surprise you in this post.

Calle Gran Via
Everybody knows that gran via is a huge street where you can find all the Inditex shops so popular in our country like Zara, Pull&Bear, Stradivarius, Massimo Dutti… As well as you can find another ones so famous on the whole world like Primark, H&M, Nike or Adidas among others.
Gran Via is a great place to shop. Full of different people. People that live here, people from another countries, young people, old people or people that is not even shopping because Gran via is not just a shopping place, there's so many people just hanging around, walking, working, taking pictures or even 'tapeando' (going to eat different dishes in several restaurants of the street).
In Gran via you have the hugest stores, many of them have like 4, 5 or 6 floors! So if you wanna shop in the typical places of the capital at the same time you can eat and hang around, Gran Via is your place!
Calle Fuencarral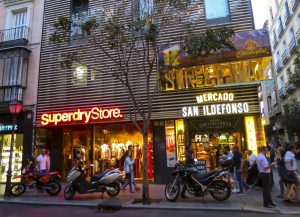 This street starts in Gran Via. It seems so small, but the truth is that is the one where you can find tons of differents brands full of fashion and so friendly. This street goes into the famous Barrio de Malasaña, the place of the youngest stylish people. So as you could imagine if you're a fashion lover this is your place to shop.
You can find brands like Michael Kors, Desigual, Addidas, Brandy Mellville, Zara, Mango, Parfois, Kling, Maje, Dr Martens, Levis and so many more. But the best about this place is that you can also find several shops that have so many products of different brands.
You can find so many shoes stores full of different and original pairs, also a second hand shop full of Levis Vintage pants! Even some chinese brands full of fashion cheap clothes.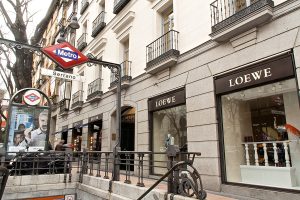 Calle Serrano
If you prefer luxury brands known in the whole world, in Calle Serrano you can find all of them. The last Gucci purse, the famous Louis Vuitton Neverfull or the best Dior heels will be there waiting for you.
In this street you can find also another luxury brands as Uterqüe, Loewe, Carolina Herrera, Dolce&Gabana, Geox, Bimba&Lola, Cartier, Bulgary, Suárez or our famous biggest store El Corte Inglés, where you can find them all!
This huge street has also some cafes or restaurants where you can rest while shopping, but be carefull because a coffe may be as exclusive as the Gucci purse!!! 😉
Las Rozas Village
If you wanna buy the best brands but cheaper, you can come to the best outlets in the capital and almost in Spain. In this little village you can find the outlets of some of this brands like Gucci, Loewe, Michael Kors, Bimba&Lola or Superdry among others. But also you can find space of new creators and tons of brands that you can buy here cheaper!
This place it is like a little city where you can walk outdoor but it also has the best things of being like a mall. Inside the village you can find some cafes to take a break, but if you walk right beside to Heron City you can find another little village full of restaurants, a cinema or even a gym!
You can go by bus that leaves from Moncloa every 10 minutes! You can take the 628 or the 625!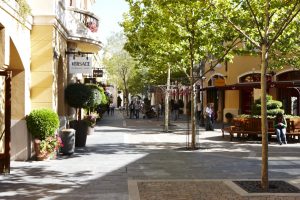 Hope you enjoy this post and my three favourite places to go shopping in Madrid.
Thank you for being there!
MCI.