Hey innsiders! How is everything going?
Everybody knows our typical Spanish tortilla, our croquetas, or even our empanadas, but not everybody knows that there are four typical, popular and traditional plates that you can eat in the capital since hundred years.
Spain has so many typical plates in each community and most of the people come just to Madrid or to Barcelona, so they try to eat them all in the capital. The pulpo from Galicia, fried fish from Andalucía, paella from Valencia… But what about Madrid traditional plates?
This are four of the loveliest plates you should eat in the capital: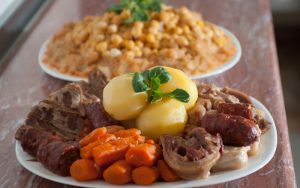 Cocido Madrileño
In Madrid our typical dish is the Cocido Madrileño: A cooked stew with noodles,
chickpeas and some meat! This most popular and traditional dish it's served in
most of the city's restaurants.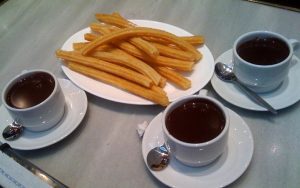 San Ginés Chocolate con churros
Hundred years ago in a tiny street between Puerta del Sol and Ópera this cafe was opened.
Nowadays is the most famous place in Madrid to have the popular churros with chocolate,
known also as a meeting point for all the after party people.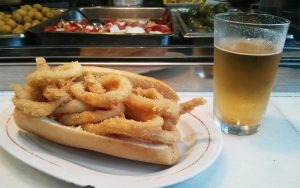 Squid baguette
You just have to go to the Plaza Mayor and ask the waiter for our famous
'Bocata de calamares'. Even though nobody understands how a seafood
sandwich can be so popular in the capital, it's real! And everybody loves it!
So don't forget to take your friends when they come visit!
Fried starry eggs
Everybody loves eggs and French fries! Our famous 'Huevos estrellados'
are what happened when you fried eggs in our fantastic olive oil and you mix
them all with tons of French fries. It's amazing! Many people add also some ham!
Mmmm Yummy!!
I made you hungry! Uh?
Go and try them all before you leave!
No regrets! You Only Come To Spain Once!
Our best wishes!
MCI.